Summer Sunshine, Silliness and Serious thinking about assessment
7 Jul
June and July have been busy months with lots of work with Kay Sambell on authentic assessment during and after the pandemic. We are told our resources have proved useful for people and we are really happy about that.
We staged a PhD ceremony in my garden for a successful PhD student of Kay Sambell's who won't get an actual one this pandemic year. Lucas was here so we capitalised on the occasion by presenting him with a cucumber Kay had grown.  He rose to the occasion and made a very nice acceptance speech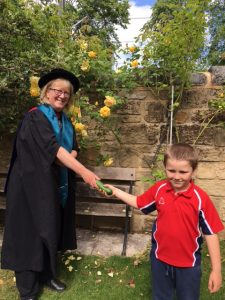 .
We were also delighted to be part of the launch of the Advance HE torch relay event that is bringing together creative ideas on assessment from people all around the world. A link towards our little introductory video is here:
Vlog – Interactive map torch relay

In this vlog, Professor Sally Brown and Professor Kay Sambell launch the interactive map torch relay and discuss why it is so important to promote authentic learning in different environments such as assessments done virtually.
Watch the vlog >
It was such fun to create this video on a gloriously sunny day in our garden: I haven't laughed so much in years.
We are also delighted to be contributing to an event to launch AdvanceHE's latest publication on assessment edited by Patrick Baughan. Our article is called "Changing assessment for good: building on the emergency switch to promote future-oriented assessment and feedback designs"; Kay Sambell and Sally Brown, In Baughan, P (ed) Assessment and Feedback in a post-pandemic era: a time for learning and inclusion. York Advance HE.
Most recently in the last fortnight I've been working with the Physiological Society on a series of workshops and linked one-to-one sessions on providing evidence for promotions on the grounds of learning and teaching. It's been fascinating to talk to so many physiologists who are doing such interesting work, including on dry labs and assessment.
After this week things are looking much quieter: it will be lovely to have a few peaceful weeks over the summer and a chance to spend time with the grandchildren, with a little writing with Kay of course on some resources for Heriot Watt university.