Tea, Tango and teSS
12 Mar
I've got an  exciting week this week as on Monday I am going to Lucas's Nursery School morning cream tea for mums and grannies as role models.
Then on Tuesday, Phil and I fly to Amsterdam to work in Utrecht, keynoting at their annual teaching and learning conference on 'in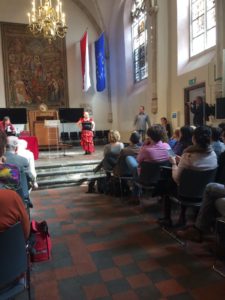 ternationalization' and running a workshop for their Science Faculty on assessment. The title they gave me for the former was 'It takes two to tango: internationalisation at the University of Utrecht' so of course I have bought an appropriate frock (photo of me in the Hall where the Treaty of Utrecht was signed). My slides for the two sessions are here:   Utrecht-Science-Assess-march17-ww.pptx (420 downloads)   Utrecht-keynote-March2017Final-version-w.pptx (418 downloads)
Then I'm flying back on Thursday night, ready for my fourth workshop in the teaching excellence for Social Sciences (teSS)
series of workshops on writing for publication, for colleagues on teaching-focused contracts. This time it's all about co-authoring, linking conference outputs and publications and getting past writer's block: the slides are here:  teSS-writing-workshop-March-2017-w.pptx (339 downloads)
You can't get much more fun than that!