September so soon!
2 Sep
Today is the first day at big school for my granddaughter Poppy, which seems unbelievable!  And yesterday was her brother Lucas's eighth birthday: where do the years go!
And it's the season of mellow fruitfulness round here that heralds much jam making  (currently plum and blackberry and apple but I have 5kg of redcurrants in my freezer ready to make redcurrant jelly!)  (Photo of plum jam at the foot of this post).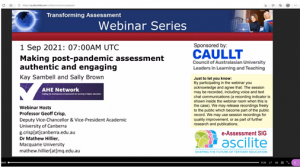 Meanwhile my work with Kay Sambell on authentic assessment rolls on and colleagues may wish to view the session recording and chat from the 'Transforming Assessment' webinar (ASCILITE e-Assessment SIG) led by Mathew Hillier of Macquarie University Sydney, Australia that we ran yesterday which can be viewed at on authentic assessment 
http://taw.fi/1S2021
We were delighted that we had 160+ participants from Australia, New Zealand, Japan, Singapore, Norway, Denmark, the Netherlands and beyond, who commented very positively on the value of our approach and resources.
You might also like two new guides we've produced for Heriot Watt University, the first of which offers a step-by-step approach to writing authentic assignments, following the format used in the compendia examples in our Covid Collection,  and the second of which is about thinking programmatically about assessment and feedback practices. See:
We are very grateful to Alex Buckley and Martha Caddell for enabling these resources to be made available as Open Access Resources which we hope will be widely used.