Joined up Thinking, Journeys and Joy
27 May
After a lovely time down in Brighton (Hove actually) last week, after a 12 hour turnaround we set off to Dublin on Sunday morning for a series of workshops in Ireland for the Crannog Project, which is looking to advance middle management leadership in learning and teaching. The workshops will take place in Dublin, Limerick and Galway. On Friday in Galway (at NUI, Galway, not at the IT as the slides first posted suggested – updated ones here) in the afternoon I'm also leading a workshop on 'enhancing assessment and feedback'. Both sets of slides are here!   Irish-Crannog-project-May-2018-w.pptx (446 downloads)    AssessFeedbackGalway-June-2018-w.pptx (336 downloads)   Biscuit-game-Anglia-Assessment-Album-w.docx (860 downloads)
Picture shows those there at the start of the final workshop above: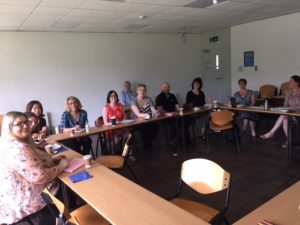 And next week is another exciting week, I'm keynoting at the British Psychological Society Conference in Birmingham on 'inspiring teaching' and then heading off for the fabulous Solstice Conference which is Edge Hill University Annual Interactive Learning and Teaching Fest, at which Phil and I are both presenting. Slides for these events will follow next week.
And if you are able to enjoy any of this lovely sunshine, do so with joy!