Home for the holidays!
19 Dec
We've enjoyed a lovely weekend down in York for the panto, and at Leeds for our annual family Christmas get-together. The photo shows me with my sisters Pam (left) and Wendy (right) with one of my niece Bekki's two Baftas showing on the mantlepiece behind us. Phil and I are now home until January, which we will really enjoy.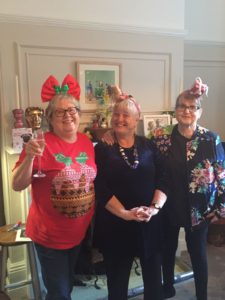 Over the holiday I will (with Kay Sambell and Linda)  be finishing our latest book, and writing a chapter for Tim Billham and colleagues who are editing another National Teaching Fellows' volume, and also working on NTF activities.
There will also be time for Poppy's Christmas crafting party, our street soirée with neighbours for mince pies and wine, and a sit down Christmas dinner for (I think) about 14 of us!
There will also be lots of reading for pleasure, writing for pleasure, playing with our grandchildren, eating, drinking and talking.
I do hope all colleagues and friends will equally be doing lovely things you enjoy over the holiday. Merry Christmas and a peaceful and prosperous New Year to all!